Herd Van Hire Aberdeen
Herd Hire Aberdeen is a Van Rental franchise that belongs to the Herd Group. Committed to the same high standards of customer care as Jim Reid Vehicle Sales & Service, Herd Hire Aberdeen is dedicated to providing Aberdeenshire with exceptional van rental services that exceed expectations and put an
Herd Van Hire Aberdeen
Herd Van Hire Aberdeen is a reputable and reliable self-drive vehicle rental company operating under the umbrella of Jim Reid Vehicle Sales Ltd. This company offers a comprehensive range of vehicles for hire, including vans and cars, and prides itself on providing a 5-star customer experience to all its clients.
At Herd Van Hire Aberdeen, you can expect a hassle-free, no-nonsense approach to vehicle rental. Whether you need a van for a day, a car for a weekend, or a long-term hire solution, the team at Herd Van Hire Aberdeen can help you find the perfect vehicle to suit your needs.
Under the expert guidance of Fleet Manager Greig O'Donnell, Herd Van Hire Aberdeen offers an extensive range of vehicles for Daily Self Drive Hire, including small and medium-sized vans, large vans, and Luton box vans. Additionally, they also offer a range of cars for hire, from small hatchbacks to executive models.
With a commitment to providing exceptional customer service and a fleet of well-maintained vehicles, Herd Van Hire Aberdeen is the perfect choice for anyone looking for quality self-drive vehicle hire in Aberdeen and the surrounding areas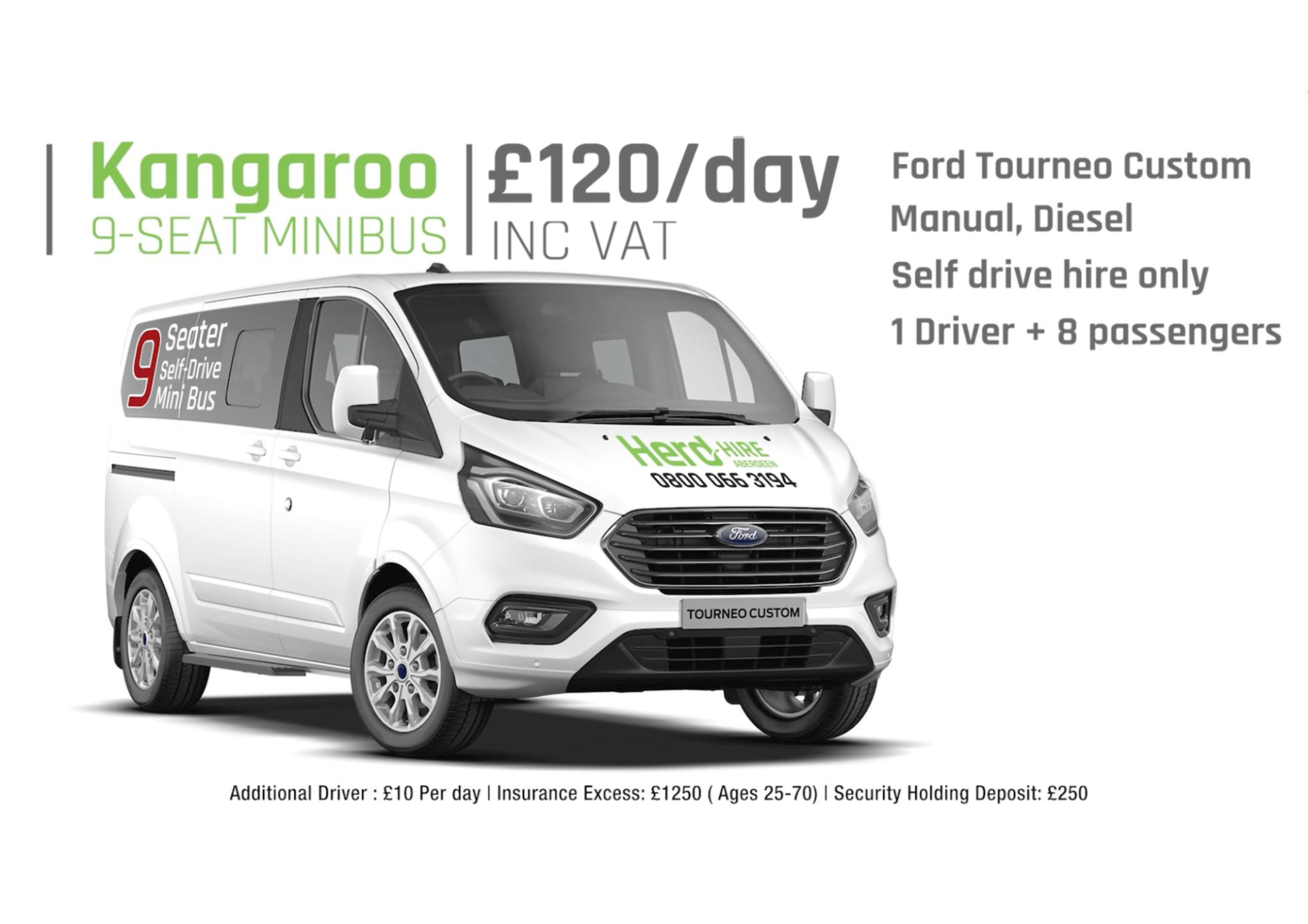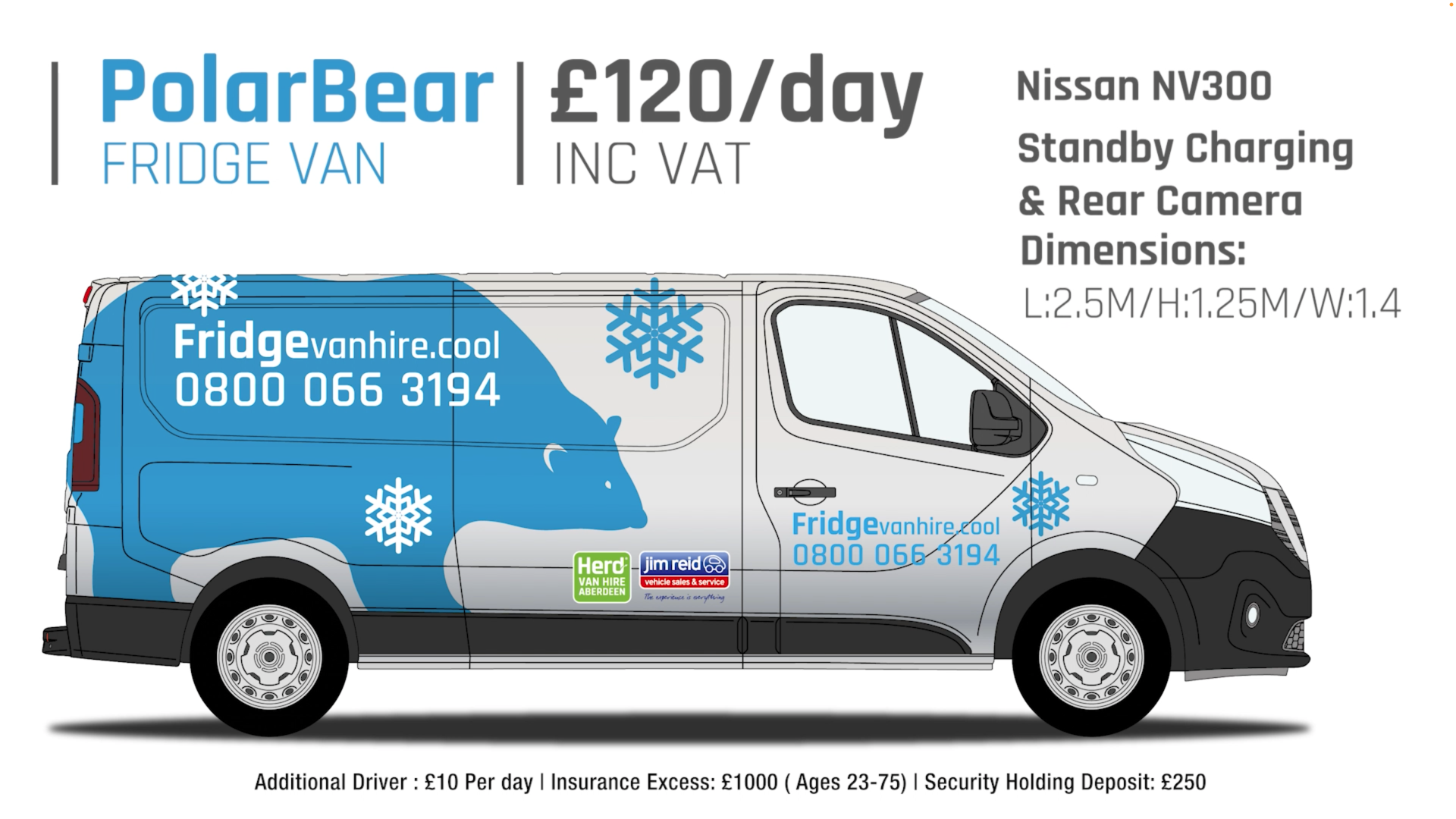 We also have available the following in a Herd Van Hire Aberdeen: -
Nissan NV300 L2H1 Fridge Van £120 per day
Ford Tourneo Custom L2H1 9 seater mini bus £120 per day
All price's include fully comprehensive insurance for one driver aged 23-75 years old ,with a minimum of two years driving experience and no more than 6 penalty points. 150 miles daily allowance ,excess miles charged at 25p per mile, Insurance excess applies a £250 Security Deposit will be taken
Minimum age for 9 Seater is 25 years old, Insurance excess is £1250
For more information to check availability or simply to book please contact Greig directly [email protected] or call 0800 066 3194
Products & Services
Small

Squirrel

Nippy, nimble compact vans perfect for moving a light load around town easily and economically. With 210 cubic feet load capacity, you'll squeeze in an average roomful of stuff.

Details

Manual gearbox; diesel fuel
2 tailgate doors
Minimum age driver: 25 years
Minimum time driving licence held: 3 years
Power steering, CD player, Drivers Airbag, Breakdown Cover 24/7
Ply Lined Cargo Area, ABS
Max payload weight: 500Kg

Medium

Camel

Strong, reliable workhorse. Popular for small moves and its small price. Approx 350 cubic feet but best to check your load against these dimension before booking.

Details

Manual gearbox; diesel fuel
2 tailgate doors
Minimum age driver: 25 years
Minimum time driving licence held: 3 years
Power steering, CD player, Drivers Airbag, Breakdown Cover 24/7
Ply Lined Cargo Area, ABS
Max payload weight: 957Kg

Large Medium Wheel Base Van

Rhino - Volkswagen Crafter £89Inc Vat P/D

Introducing the Rhino Van, a robust and hardworking vehicle that can tackle heavy-duty tasks without breaking the bank. With nearly 500 cubic feet of load space, the Rhino Van is perfect for moving the contents of a one or small two-bedroom flat, providing an affordable solution for all your transportation needs

Van Details

Manual gearbox; diesel fuel
2 tailgate doors, plus off-side sliding door
Minimum age driver: 23 years
Minimum time driving licence held: 3 years
Power steering, Breakdown Cover 24/7
Ply Lined Cargo Area, ABS
Max payload weight: 1576Kg

Jumbo Long Wheel Base Van

Jumbo - Volkswagen Crafter £99Inc Vat P/D

Meet the Jumbo Van, the mighty vehicle that can make light work of even the heaviest loads. With a remarkable capacity of up to 700 cubic feet, the Jumbo Van can easily accommodate all your belongings, from a typical 2-3 bedroom flat and beyond.

Van Details

Manual gearbox; diesel fuel
2 Tailgate Doors, Plus Off-side sliding door
Minimum age driver: 23 years
Minimum time driving licence held: 3 years
Breakdown Cover 24/7
Ply Lined Cargo Area
Max payload weight: 1304Kg

3.5T Luton Box Van

Mammoth - Luton Box £99Inc Vat P/D

Introducing our Mammoth, the heroic van that can handle even the most challenging of loads. With an impressive load capacity of 750 cubic feet and a powered tail-lift, this vehicle is ideal for both residential and commercial moves, providing a cost-effective solution for all your transportation needs.

Van Details

Manual gearbox; Diesel fuel
Tail lift (Maximum lift capacity 500Kg)
Minimum age driver: 23 Years
Minimum time driving licence held: 3 years
Power steering, Electric Tail-Lift, DAB Radio, USB, Breakdown Cover 24/7
Shoring Poles In every Luton Van
Max payload weight: 1445Kg
https://aberdeen.herdhire.co.uk